Wallet Friendly Gadgets Capture the Market
2014 seems to be the Apple year. This year Apple has ventured the ever unvisited lane of phablets. With its iPhone 6 plus it is trying to steal the charm of the big size Samsung phones. And this is not the only thing..as  Apple will soon launch iPad powered with iOS 8 late October which is a move to capture the tablet market. This is surely a red alert for all the gadget development companies.
Wherefore, Amazon has caught the nerve of the audience and has launched reasonable gadgets. Yes, we are talking about Kindle Voyage and new tablets with sizes 6 and 7 inches. The ideology behind this would be the capturing the market.
Wallet Friendly gadgets
We know that Apple do offers incredible features, but what is the use if theses devices do not suit our wallet.
How can Apple be so biased!  No worries! We do have a lot of other options with us.
Thanks to Amazon!
Amazon has launched a serious of wallet friendly gadgets which are certainly very competitive in terms of technology.Moreover, e-readers is its USP. We have Amazons Kindle Voyage and tablets, which caters to all your needs. Let's find out what Amazon has in its store and how it is still different.
As light as feather
So when we be asked about the lightest thin..  the answer would be.. 
mmmm …wait for it..
it's Kindle Voyage ..
Amazon has some what achieved its vision to craft a paper like digitized e-reader. And trust me it actually feels as if we are reading a book made up of paper. The only difference is that the it gets refreshed and has the ability to interact with the readers.
Kindle Voyage was released on Wednesday in Seattle. This is an ultra-light and ultra thin gadget. As it weighs 6.3 ounce and has a width of 7.6 mm. Moreover, the device is very bright and sharp due to technical advancement.
You cannot get anything better than this in $199
Now let us come to the technicalities. This ultra thin device offers you 300 pixel- per-inch (ppi) resolution in a 6-inch single-mold magnesium reader. This is a simply superb device from Amazon. Moreover, it has a glass face surrounded by a monochromatic screen. The screen is in between two thin lines. So in order to turn the page forward or backwards you just need to press it gently. However, you can swipe through the pages to advance through the net page.
Simply a Soothing Reading experience Voyage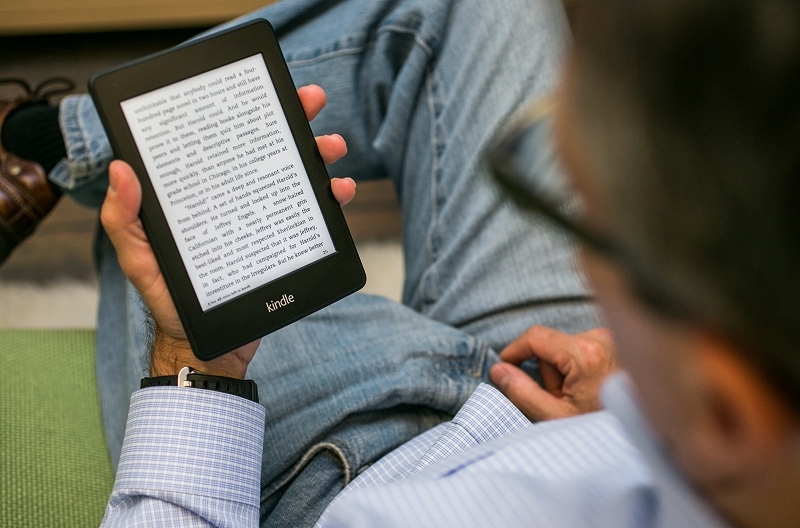 Voyage provided you a soothing reading experience as the text is crisp. Moreover, in order to minimize the glare they have micro-etched the glass screen. Another important feature is that it does not reflect the bright light. Additionally, it is powered with ambient light sensors which can auto-adjust the brightness of the over- the – screen lighting.
Twin Brother
I don't know what was the reason behind crafting this one. Amazon also presented an inexpensive version of Voyage. It costs $79 ( so that you can gift one to all your relatives) and thus it is not at all good looking as Voyage.Though it offers a touch interface but rather than using the intrinsic touch panel built into the screen they have used infrared sensors around the edges of the screen. And it is said that everything comes with a cost, therefore it has no explicit reading light.
Everything Comes with a Cost, but there is one for all
Amazon $ 79 Kindle > Paperwhite $ 119 > Kindle Voyage $199
Here we can see that quality and features are more refined in the dearer device. Perhaps, the best thing to see is that Amazon has kept various options open for all kind of users.
It's not just about the looks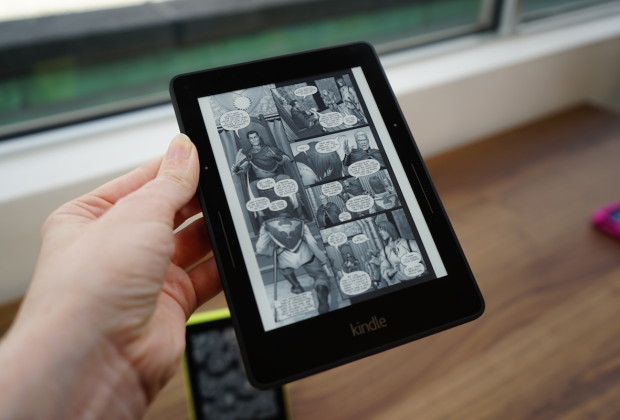 Its not the just the new look or the size of the device. There are some new e-reader tools. Rather, I must say that these tools are for the non- readers. X-ray is a tool to engage the users by featuring images and lead characters. Moreover, you can speed up your reading pace by utilising the content analysis. Additionally, you can get back to from where you started with the same zing by going through the snippets provided in the gadget.
Lethargic Lexicon
My boss keeps on scolding when I use any unusual word in my blog. This is my personal experience (as a mentor… ok yes as a reader as well) that many people have an apathy for reading because of the grandiloquent words written in an article or novel.
Opps! Sorry boss did it again
So the whole point is that we cannot change anyone's style (because there are so many writers) of writing but if we use this gadget then we can get to learn the words simultaneously while reading. There is a new tool named as Word Wise makes this happen. The social reading platform is there as it was in the previous devices. Perhaps, it has now become easier to add books to your online book shelf. Furthermore, Amazon revealed that Goodreads has 30 million members. Now that was a noteworthy statistics. 
Looking at this whooping success you might be thinking to craft a similar application for you business. At Enuke, Being a Mobile and responsive web development company we will be glad to help you walk through the success road. For queries feel free to drop us a line at info@enukesoftware.com .