Hire Drupal Development Company in Manchester -Top 5 Reasons
Last edited on 14/09/2017
Summary: Hiring a reputed Drupal Development Company is very crucial for the success of any business. So, to help you Enuke Manchester Company will provide top quality Drupal CMS application development services at affordable prices.
Today, Drupal has emerged as one of the fast growing content management systems when compared with others CMS like Joomla, Magneto, WordPress, etc. According to a recent report, Drupal contributes more than 10% market share along with providing some unique features that are missing in any other CMS. Along with providing interactive content publishing solution for blogging, Drupal can also be used to resolve e-Commerce solutions.
Due to the continuous increase in the popularity of Drupal, the majority of the online start-up and other midsize business enterprises are using Drupal as the primary content management system. Some of the evidence can be observed by the fact that both small and mid-size companies have deployed it using high functionality provided by Drupal.
With the demand of Drupal web developer is continuously rising, choose the hiring the best Drupal development company become the primary concern for many businesses. So, to helps you we have written this detailed article on major reasons to hire Enuke Drupal Web Development Services.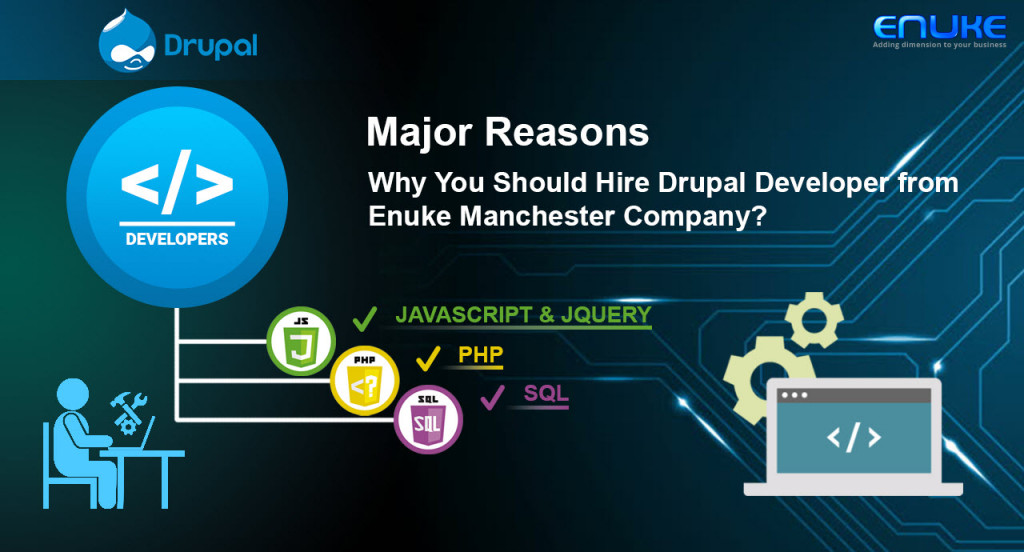 Reasons to Choose Drupal Content Management System (CMS):
Some of the primary reasons for selecting the Drupal CMS are:
1.Search Engine Optimization Friendly: One of the primary reasons for the wide uses of Drupal is search engine optimization. Drupal provides website owners SEO features that help them in optimizing the web pages, and blog posts content easily. It will further help them in getting higher ranking in major search engines like Google, Bing, Yahoo, etc.
Also, to use the SEO features of Drupal is quite easier, and one doesn't need to have too much technical knowledge about it. A website developed on this content management tool is ranked well on the search engine results pages (SERP).
2.Customization Options: Drupal is one of the CMS which provides several kinds of customization options without degrading the overall quality and design of the website. An experienced Drupal-developer can change the look and feel of the web application by adding custom fields, short codes, tags, etc. Additionally, the availability of customizable free and paid templates make Drupal as the perfect choice.
3.Speed: Website Speedup is one of the most important factors while choosing any content management system. And, among all the CMS available today in the market, Drupal is counted as one of the fastest content management tool. Also, the compatibility of Drupal with latest PHP version makes it the ultimate choice when selecting the top Php Content management system.
4.Security Parameters: Drupal is also counted as the most secure content management system as compared to its competitor like WordPress, Joomla, etc. Due to these security features, Drupal become the most preferred choice for developing simple blogs, e-commerce, e-learning websites, government websites, etc.
5.Additional Drupal Features:
Easy integration of Drupal with 3rd party applications
i) SOAP
ii) REST
iii) JSON
iv) Many Others.
Support
i) Developer Support
ii) Official Drupal Forum Support
End User End Features
i) Image handling and optimization option
ii) User-friendly editor options
iii) Usability and file handling options
Final Note: With so many useful features, one can't ignore the importance of using Drupal content management system for developing a single page to a complex website having lakhs of web pages. In case, you are looking for the cost effective Drupal development in Manchester (UK), then only choose Enuke software company services.