How to Hire an iPhone App Development Company in London
Last edited on 07/09/2017
Summary: A complete guide to explain everything you need to know before hiring an iPhone App Development Company London. Previous experience, iPhone app development cost, team knowledge, tools, and technologies, etc. are some of the important points.
In today fast-growing technology world, the smartphone has completely changed the way, we think and work our day to day life. Today, with the continuous increase in the iPhone, Android, Windows phone popularity, there has been a sharp increase in the mobile application development companies.
iPhone App Development Company in London
However, among all of them, iOS has emerged as the top player when compared with other available mobile phones operating system due to the brand popularity, security, company behind it, etc. Also, services provided by Enuke iPhone App Development Company in London will help you in designing and developing an entirely new business oriented iPhone OS app within a short span of period.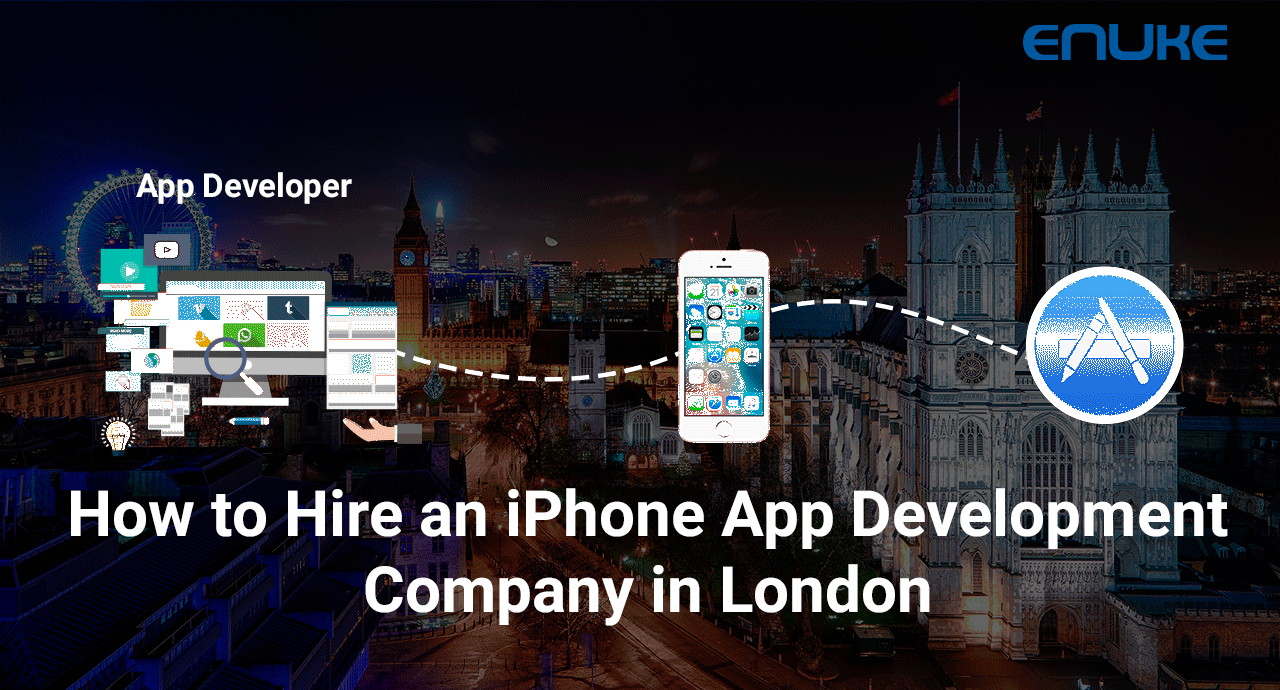 So, if you have an idea in your mind and want to develop your own iPhone App to generate more business online, then this article will prove beneficial.
1.Previous Experience in iPhone Mobile App Development: This is the most important point which is necessary to know before choosing a company for your next iPhone app development project. Ask the company sales or iPhone project manager to show experience in developing iPhone application projects. It will help you in making sure whether the company can complete your iPhone application development project or not.
2.Tools and Technologies Stack Used in the iPhone App Development Company: To develop a robust iPhone App, technology stack plays a very crucial role. It will make sure whether the developed iOS app can generate leads and sales for your business or not. So, before selecting the iPhone development company London, ask the project manager to describe everything about iPhone application technology stack. It will include:
Framework
Programming Languages
3rd Party Library
Operating system support
iPhone app project management tool
Testing units and tools
3.iPhone App Development Projects Cost: The full iPhone app development projects cost is another useful factor which you need to ask before choosing the Best London iPhone app development company. It might be possible that the iPhone development company charges more money from you which is above your overall budget and market price. So, deciding it in the initial period will help you in making everything clear and more proactive.
4.Previous iPhone App Development Portfolio: Portfolio plays a vital role in every business. It describes all the past achievement and other important works which the company has does in the previous few years. Also, while selecting the iPhone app development company, ask the company business head to share a detailed App Development Portfolio.
5.Customer Reviews: Online customer review is the final point which is required before hiring an iPhone application development company. You need to check the customer review on major online review websites to ensure you are going to select the right company for your next iPhone application development.
Final Note: Though there are certainly other points that are required before hiring an iPhone app development company, the above-discussed ones are the most important. If you know any other point which is necessary before hiring an iPhone App Development Company in London and deserved a place in this list, then feel free to share them via blog-comment section.