The healthcare sector has drastically transformed the lives of patients and healthcare providers. No one could have imagined that most of the licensed pharmacists would be able to provide you doorstep medicines through a medicine delivery app. Medications can now be delivered to anyone with a prescription. Imagine a situation where you have just had surgery, and you have become homebound.
When it comes to talking about the mobile health industry, this information below can give the idea about the progress of the mHealth industry-
Zion Market Research has published a new report and according to that report- "the global mHealth apps market was valued at approximately USD 8.0 billion in 2018 and is expected to generate around USD 111.1 billion by 2025, at a CAGR of around 38.26% between 2019 and 2025".
Since 2016, the mHealth industry has been growing at a CAGR of 32.5%. Furthermore, 71% of medical professionals use smartphones for different operational purposes. Also, 33% of doctors use different medicine delivery apps and prescription ads for prescribing decisions.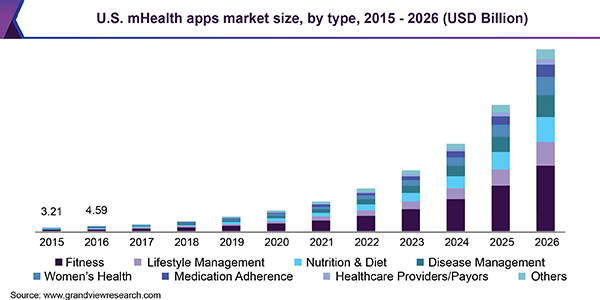 What are the different types of medical apps?
Remote monitoring is just one of the many applications of mHealth technology. There are more types of medical apps offered by medical delivery app development company..
Diagnosis apps
Medical reference apps
Medicinal journal apps
The clinical decision helper app
Social networking app
Medical news apps
Productivity apps
Remote monitoring apps
Doctors on-demand apps
Medicine delivery apps
Medicine delivery apps are the most widely used apps in the world. These apps are also highly sought due to the convenience they provide to not only patients but also the healthcare providers. Along with that, these apps also provide other features such as reminders to when the next medication is due, automatic refill options, free and fast-paced delivery systems, quality services through various online tools.
User-friendly interface is what makes the best medicine delivery apps of 2019-2020 different from other available apps. Here is an overview of some of the best medicine apps.
What are the best medicine delivery apps?
Epocrates:
Epocrates is a leading medical reference app in the US that offers information on patients, drugs, diagnostics, and diseases. The app has features such as a pill identifier, drug calculation that helps in the dosage as well. This app is quite popular among Android users with an updated OS.
1mg: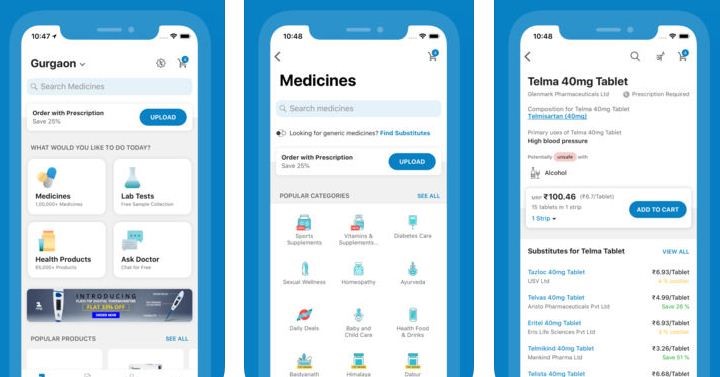 This app allows you to search for medicines and find the lower-priced medicine substitutes. Moreover, the app provides other medical queries and information such as treatment plans, side effects, usage information, safety warnings, safety advice, patient FAQs.
You can also consult with the recommended doctors using this app and book the doctor's appointment from this app. 1mg has partnered with reputed medical labs so that users can easily have the lab reports sitting at home.
Doximity:
Doximity is a new health care smart app developed by the founders of Epocrates. This app is mainly designed for the doctors as it provides a free private networking platform for physicians, surgeons, etc. The best part of using this app is that it allows the doctors to edit their profiles, which ensures no chance of error in the database. In addition, doctors can send encrypted faxes and messages related to the medical cases that meet HIPAA requirements.
Netmeds:
Netmeds is a leading pharmacy delivery app in Asia, delivering health-related essentials to more than 4 million customers. The app provides low-cost but high-quality substitute medicines that provide similar therapeutic benefits like branded medicines and prove to save medicine costs for patients significantly.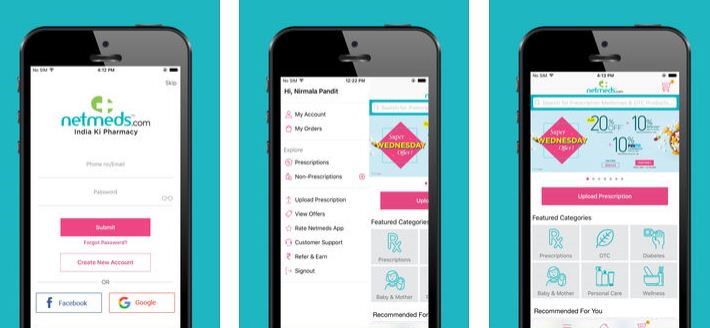 Skyscape:
Skypscape is a high-quality all-in-one app for Android which offers medical tools and information, a medical calculator, and helps you find a useful drug reference that can deliver prescription drugs at home.
Medplus Mart:
It is an online pharmacy and general store app which has a vast collection of licensed medicines, baby, nutrition, healthcare, personal care, diabetic, and other specialty products at a very competitive price. The highly intuitive and easy to use interface of this app allows you to shop from the comfort of your home.
Medlife:
Medlife is one of the best medicine delivery apps that comes with a highly user-friendly interface. This app offers free of cost delivery for the order value of RS 100 or above. You can get the delivery within 24-48 hours. This medicine delivery app has more than 100,000+ over the counter products which require no prescription.
Practo:
Practo is the most popular medicine delivery apps in India. This app started their journey as a free doctor appointment booking app, but now it offers doctor consultations, medicine delivery, storing digital marketing records. This app provides you free health tips for growing healthier.
PEPID:
It is a clinical reference and decision-making tool which allows the doctors to treat patients with the utmost care and accuracy, without even leaving the point of care. PEPID is used in more than 150+ countries. The doctors associated with this app have full access to more than 3000 disease profiles and clinical conditions. This app provides high-definition radiographic images, elaborated illustration, and photos of medical pills. The highly comprehensive medical database has made a common name in the medical world.
Ask Apollo:
Ask Apollo, another hugely popular health and medicine delivery app in India, could be your one-stop destination for all your healthcare and wellness requirements. You can book appointments, order medicines online, and consult with the Apollo doctors.
UpToDate:
This app allows you to stay up to date with the latest medical news, new drug releases, and much other medical-related information. This app is available for both iOS and Android users.
GoodRX Drug Prices and Coupons:
It is an excellent medicine delivery and information app for people with no medical background. This app allows you to compare the drug prescription prices, find great deals for your budget. This app also provides a great experience to the users as it is entirely free with no advertising or in-app purchase elements.
MySugr:
This app can be one of the most effective helps for people who are suffering from diabetes. This app works for both type one and type two diabetes. MySugr allows you to keep the proper tab on your diabetes treatment routine. The free version comes with the basic features, but, you can buy a subscription for accessing more useful features.
BookMeds:
This medicine delivery app allows you to buy products from different categories like medicines, medical products, orthopedic care, baby products, hospital equipment, protein supplements, fitness products, and much more.
You just need to upload the prescription and get your medicines delivered at your doorstep. Presently, this service is operational across 600 pin codes in India. This app is available in both Android and iOS.
Smartmedics:
This is also a viral online medicine delivery and doctor consultation app in India. You can order medicine online across different cities of India by using the mobile app. The best part of using this app is that it offers a 22% discount deal on all of their health products. This app doesn't take any delivery charge, and the minimum order amount is RS 100.
WeChemist:
Are in urgent need of medicine? If yes, this medicine delivery app could be a great help for you as it provides the delivery of medication within 2 hours. WeChemist also offers good discount deals on the purchases.
If you don't get the medicines delivered within 2 hours, you can still have your medicine delivered within the same day itself.
BrownPacket:
This is another excellent medicine delivery app, which is trending the mHealth market. This app delivers the medicine to you within 2 hours to 48 hours after placing the order.
This app offers a massive discount of 22% on your purchase. BrownPacket is available in both iOS and Android.
Myra Medicines:
It's a Bengaluru-based startup which delivers medicines within 30 minutes with up to 35% discount on your maximum product. It allows you to make the payment by using your credit card/ debit card, online banking, and cash on delivery is also available.
HeyCare:
It's a comprehensive health care app which provides complete health care and medicine delivery services to everyone. HeyCare comes with a highly intuitive and user-friendly interface. This app includes additional utility features like ordering medicine and OTC products online, booking diagnostic lab tests, set reminders for pills and vaccinations, and many more.
The Care Wallet of this app allows you to save up to 30% cash on medicines and wellness products.
Medicine Shoppe Pharmacy:
This medicine app is a fast, friendly service that offers you an on-time prescription regimen. This app helps to auto-refill your medicines as per what your prescription suggests. Expert care, 100% focus on healthcare services and personal attention are the three significant motives of this company.
Medscape:
Medscape is a highly comprehensive medical application that offers you ample information on your medicines as well as delivers it right at your doorstep. This mobile app has more than 7000+ drug references and more than 3500 clinical references. An app like Medscape has taken mobile app development to a new level.
PharmEasy:
Not only you can get medicines delivered through PharmEasy but also can get tests done at home. You get 20% off on drugs but also offers you genuine medicine from licensed pharmacies. PharmEasy provides free home delivery and gives you space in the app where you can also store all your medical data.
Getmed:
This mobile app is quick to use; the interface is easy to use. All you need to do is click a picture of prescription and get it delivered in 45 mins right at your doorstep. This company provides 24/7 service, which makes it an excellent app for senior citizens.
Heart Pathway:
Heart Pathway decision tool for patients that provides you emergency room physician in a medical app. This app also has an electronic medical record system that allows users to save medical documents as well.
EMRA PressorDex:
When you require a physician for an emergency. This application provides you the right information about medication dosage as well as treatment information. It also helps you track down pharmacies that deliver medicines to you.
ZipDrug:
This company offers you prescribed medicine delivery in an hour. Getting your medication becomes quite easy with Zipdrug app, which is available for Android and iOS. This mobile app brings the pharmacy to you. Apart from being a quick delivery service, this company also accepts insurance plans so that it becomes easier for you to pay.
Medicine delivery app has been one of the most successful innovative ideas ever by mobile app development companies. Knowing that people nowadays only use smartphones, this app not only saves money but also the travel time of getting your medicines. Idle for old age citizen who live alone and requires more assistance than young adults.