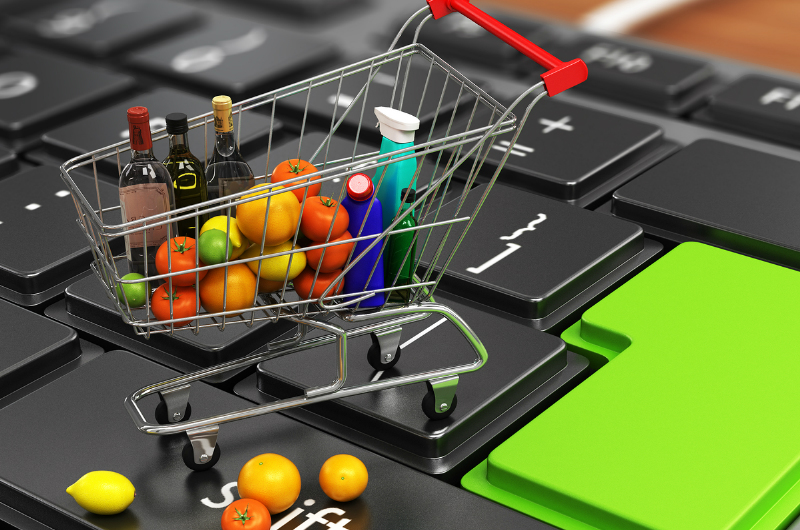 The technology has given wings to our dreams; it had made us believe that our far sighted imagination is actually possible. There was a time when one has to look at the big fat dictionary to find word meanings and it was really expensive to get one as well as tough to carry it everywhere but now everyone has their personal dictionaries in their pockets in the form of their mobile devices, and why just dictionary, there is a whole library there. Whoosh!! Isn't it something our older generations had dreamt of?
Just like Education, every field is witnessing witnessing watershed moment. Examples are Travel, Retail and Grocery. Grocery Industry businesses are a big winner grabbing this opportunity which Digital technology provides through e-Commerce markets.
Grocery Market Size in U.S alone is around $675 billion and the share of pie of online groceries is getting bigger and bigger making deeper roads towards a consumer focused system. More than a third of shoppers using online channels for making purchases are expected to buy groceries via online grocery platforms as per Morgan Stanley.
Online Grocery Penetration in U.S market is expected to increase for both fresh foods and packaged foods. For fresh foods, there is expected an increase from 8% to 26% and for packaged foods, there is an expected increase from 16% to 28% for the year 2016-17. The substantial growth of online grocery delivery has also been possible due to Cold Chain Infrastructure Development and better shipping standards.
Other countries with notable increase in orders of online groceries are Germany, France and UK. Well, there will be a resurgence of door delivery of groceries and food items globally in 2017. The retailers are keen to set up their e-commerce model or to get into partnership with the aggregator platforms to multiply their revenues and offer the convenience to consumers.
The digital channel has many benefits for the users. They get to escape the long queues to get their turn at the billing counters; they don't need to walk up long aisles to search something saving them time. They can also make savings from many tricks. First, they can minimize overspending on Instant Gratification items by targeting only on products which they intend to buy. Second, they get many products at reasonable rates. Third, there are many promotional offers, cash backs, discounts etc. adding to online shopping advantages.
The special privileges for online grocery shoppers is, they can opt for subscription service to automatically replenish the orders at the set time periods, they can make payments as per their own suitable mediums. They have the flexibility to schedule the date and time of deliveries and many more.
However, there are certain challenges in Online Grocery Delivery and Distribution associated with logistics and cost concerns which need to be solved.  Last Mile Delivery needs sizeable logistics so that every customer can get quick and timely delivery of items and companies need to minimize the distribution and other costs. To tackle these, many retailers like Wal-Mart are using many tools and strategies like Six Sigma implementation, using robots for sorting and filtering of goods, bar code scanners, GPS enabled delivery trucks etc.
So, with Online Grocery Delivery Business Applications, the opportunities are huge. One just needs to dive in and experience a new world driven by digital technology.