If you know how to market your creation then you can surely rule, but if you are still staggering in the path of marketing, then you need to hear this story. After completing my college, I and a couple of my friends were very much intrigued with the idea of architecting mobile apps, so we started a Mobile App development company. We were highly motivated with the fact that being the frontrunners in this field we would be able to make a mark. Despite of architecting a brilliant mobile app on women security we were unable to make it big.
Further, after a year a similar app was created by another company and certainly their app become a hit.
And we were like —- HOW???????
The only reason behind their major success was their marketing strategy. Believe it or not, marketing plays a crucial role in your apps success if you know how to master the art.
Although our Mobile app development company was unable to survive but then after I realised the importance of marketing. You need to realise the fact that no matter how good your mobile is, it won't be able to make it big without a great marketing strategy. Now without wasting much time we will now go to marketing steps which are must for success.
Smartly strategies your marketing
Create awareness
Create a need
Make it a necessity not a luxury
Position your app neatly in that need
Looking at these aforementioned points we exactly know that what we need to do it, but "HOW to do" is still a question. You might be thinking that preaching these things can be quite easy but the real marketer is the one who can do it. I know that you have the best of the best mobile app idea and you are ready with all the development and testing.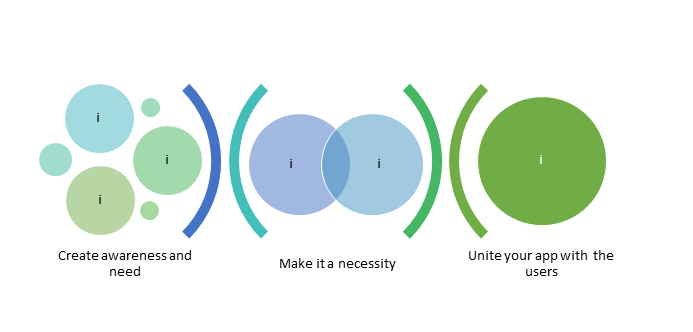 You seem to be ready, may be, but you are definitely not ready for a show stopper entrance.
In order to land like a star you need to first create awareness among people. There are numerous useful apps which have gained a lot of critical acclaim but were unsuccessful in making space in user's smartphone.
Prepare yourself before the launch
Even Tom Hanks does research about his character and rehearses his dialogues before actually starting the campaign, select the keywords and your app category as per your audience.
"Return on investment of content marketing is 4 times of the other conventional methods."- Julie Fleischer, Kraft
To create awareness you first need to find your target customers. We all remember myths, epiphanies and fables told to us when we were kids, so use stories which people want to hear to tell them what you have in store for them.
Related-: Influence Your Users to download your app
Does your App name and App icon has a mass appeal?
You need to make sure that whether your App's name and App icon is appealing enough to catch the attention of the masses. We can take examples of famous brands as they have catchy names, say Google. The name suffices to a search engine as we can say it is somewhat similar to goggle which means to see and Whatsapp also perfectly fits to a messaging app. So, do not underestimate the power of the name and icon. Moreover, your apps icon must convey your apps purpose and must have a mass appeal. Make sure that it can gain users attention as soon as they see it, because it creates the first impression on users. An app icon has the ability to allure users to start more interactions with your app, so take it seriously.
Use your competitors as the case study
Knowing your strength is good but knowing what your competitors have in their kitty is the best thing you can do. After knowing your targeted keywords find out your competitors and entrench information about them. I know you might have done a detailed competitor analysis before developing your app, likewise you need to do the same when it comes to marketing strategies. Find out their rank history, their rating, their press releases, videos and all their promotional strategies whatsoever you can possibly think of. In this era of burgeoning Mobile apps you will find out various mobile apps similar to yours. So, you need to figure out your true competitor and doing that is not at all a tough task. Now, to edge out your competition you need a strong marketing strategy.
A video can do wonders
"We need to stop interrupting what people are interested in and be what people are interested in"—Craig Davis
Although, it is expensive but it can prove to be the most effective marketing strategy which most of them fail to do. It is the most time saving and brilliant way to disseminate your app's working and functionalities. You mobile app may be Android app or an iOS App but the marketing strategies will always remain the same. Do craft an attractive video but do not make it too flashy.
Moreover, you do not have to keep a strong budget for the video rather you can use smartphone emulator such as Simfinger which is for free and iShowU HD which cost just $60 for Pro, to create the best video which features all the features of your app.
Where do you see you app 5 months down the line
If you are going for Android App development then you need not to go to every app store to submit it. This will not divert your attention and will make you lose your focus. Focus on a concerned user base and on your advertising strategies so as to drive the targeted user base to your app only from one app store. Concentrating on one app store will increases your ratings, rakings and surely your audience base. Moreover, this helps you to remain dedicated and to give in your best in terms of updates.
Let the press know that you are coming
73% people do not even care if any brand disappeared from the market or have landed in the market.
Take the help of mass media in order to tell world that you are entering into the market. This is a crucial step in creating awareness among the audience as almost many useful apps remain unsuccessful due to dearth of publicity. Send request for app reviewers which reviews the category of apps in which your app falls in. Do make sure to send them extremely impressive write-up about your app which is able to construct a positive image on their mind. This will leave a positive impact on them and thus they will write highly about your app.
Use social media to reach out the users
Social networking platforms such as Facebook, Twitter and many more social networking platform can surely be the right arena for your network development. You can go for tweeting strategy by picking out the most suitable hashtags to generate needs and create an aura of your app. However, do keep in mind that all social media platform do not work in a similar manner, so before starting a fully-fledged campaign do learn about their functionalities. However, do not forget to exchange pleasantries when someone comments and shares your post.
Do keep the zest alive, else you'll sum up to zero
The worst thing which all app marketers do is that they lose all the zeal and zest which they had prior to the launch. Do not let this happen to your app. If you loosen up after the launch all your efforts will go in vain.
Go to the users and go for updates
After the launch your can ask the users about their reviews and certainly form there you can pick suggestions to update your app. Constant updates will always keep you in news (Remember how news channels and print media was flooded with the latest news of "Whatsapp lets you know when people read" update.)
Marketing is one such tool which can help you to get business but it's up to you that whether you can utilise it to the fullest or not. I hope these tips can help you to cover distant areas.
As it's not always about the functionalities which can take you to distant places rather you need a medium to travel and make way for your technology to sink it into their system . Choose your medium and make a way for your App which takes you to user's heart.
All the very best! Will be back soon with more strategies.
You can drop your queries and please do share your amazing ideas and reviews with us at [email protected] .