The travel and tourism industry is one of the largest industries in the world with a global economic contribution of $8.8 trillion in 2018. It created 319 million jobs globally, as per a report by the World Travel & Tourism Council (WTTC). Being one of the fastest-growing industries, it serves millions of travelers every year and caters to their diverse needs. Mobile apps help travel agencies double their revenue by providing access to these travelers.
While planning a vacation, travelers are prone to forgetting small details such as finding places to visit within the country or city they are traveling to or famous restaurants, etc.
An online travel agency should ensure a seamless travel experience for the customers to use their services again in the future. A travel portal is essential to serve the smallest needs of travelers. It is also essential for customers to contact the travel agency or access other features.
What are the travel market stats?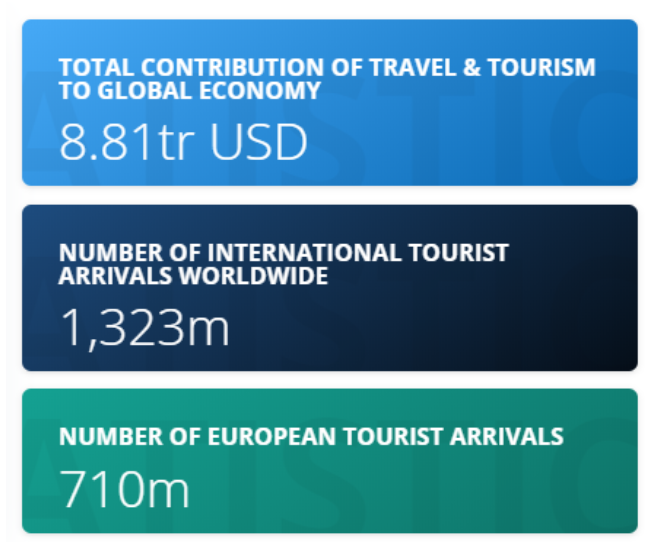 In terms of downloads, the travel-based apps fall under the category of the seventh most-downloaded apps. Moreover, about 70% of travelers use mobile apps to book hotels; 60% of people use navigation apps during their vacation; and about 54% find restaurants through mobile devices. If your travel portal includes features that would help travelers access maps, nearby places, car rentals, etc; your customers wouldn't feel the need to go anywhere else for their travel requirements. So far, it was the individual travel agencies that played that all-important role of providing information to the travelers.

But, with the advent of the state-of-the-art technology of mobile apps – developed by a travel portal development company, the travel industry has undergone a massive transformation – in the way certain tasks get done. The travel agencies must embrace this technology – with an open mind.
How Do Mobile Apps Benefit Travel Agencies?
There are no definite stats that mobile apps increase revenue by X times in a specified period of time. However, their benefits suggest that travel agencies double their revenue when using a mobile app. The travel apps help build customer loyalty towards your brand, ease the travel booking process, reduce workload for the travel agents, and help build a stronger brand. Let's look at the benefits of having a mobile app for your travel agency.
Track Customer Behaviour
Travel apps are the most efficient way of tracking your customer's actions and knowing them better. They facilitate the collection of relevant information from customers and predicting their travel behavior. This also helps a travel agency to provide customers with tailored solutions for their trips.
Brand Promotion
When customers share your stories with others, your brand is effectively promoted. As per research, 12% of brand promotion leads to an increase in revenue by two times on average. Brand advocacy through your customers' social influence is a powerful tool. An exceptional travel experience provided by your travel portal software is bound to be shared with more potential customers. It creates a brand image for your travel agency and doubles the revenue.
Reaching Out to the Right Target Audience
With the younger generation being hooked to their smartphones and tablets, the mobile apps present a wonderful opportunity for your online travel agency to reach out to a wider target audience – the world of these young travelers.
Real-time Customer Support
All of us follow our own busy schedules. The mobile apps provide travelers with agility, speed, and above all the much-needed responsiveness. The travelers will always prefer to have information, anywhere and anytime – through their smartphones. The most satisfied traveler is one that gets instant information on his smartphone before and during the trip.
Offers & Deals
Incorporating a bonus system in your travel app that provides offers or deals on booking hotels, flights, etc., excites customers. Customers who use your app frequently accumulate points that can be used later for discounts or offers. This also ensures that the customers use your app in the future as well. Notifying the customers about on-going offers through app notifications makes customers book their travel through mobile apps. This in turn increases helps travel agencies to double their revenue.
Increased Inventory
GDS integrations with your travel app provide your customers with access to a large inventory of flight tickets, hotel rooms, tours, cruises, car rentals, etc. Providing competitive rates and quality services with the help of XML/API integration makes customers prefer your mobile app to plan their travel.
Streamline Booking Process
A mobile app reduces your workload especially when your clients want to repeat the same trip or are accustomed to finding what they are looking for. The app features stores previous bookings of clients through which customers can easily check the availability of their desired hotels or flights, save payment information and make instant bookings with just a click.
Re-Engagement Programs
You can launch re-engagement programs through your travel app to retain customers and keep them interested in your services. These campaigns can also be tailored for your customers and carried out via emails or notifications. This works as a great tool for casual travelers who do not travel frequently, as it reminds them about your brand and keeps you connected with them. Customer engagement with your app increases when you send out push notifications.
How Do Leading Travel Portals Make Money?
Expedia is one of the largest online travel agencies in the US with a revenue of $3.56 Billion for the year 2019. Expedia used a merchant business model and makes most of its revenue by making bulk bookings of hotels and accommodation at a cheap price and selling at higher rates. It also charges commissions from hotels that want to increase their visibility on the Expedia portal. Furthermore, it charges partner websites that sell reservations in the same way.
The least used model by Expedia is the advertising model. Through the advertising model, the travel portal leads the customer to the website of the hotel where they can make the booking. TripAdvisor uses this model to charge hotels that advertise on its website when the customer clicks on the booking link.
Booking.com mainly uses the agency model wherein it establishes contracts with different hotels listed on its website and charges a commission of 10%-30% for every booking. Hotels payer higher commissions to rank higher on Booking.com. Moreover, by offering hotels on a commission basis, it doesn't require owning the inventory and avoiding the risk of unsold inventory of tied up cash.
How To Get A Mobile App Developed For Your Travel Agency?
The benefits of travel apps mentioned above and many more factors can significantly increase your business revenue. The apps not only facilitate providing quality service to your customers but they also increase your customer base and sales. A reputed travel portal development company can develop a comprehensive mobile app for your online travel agency with advanced features and functionality.
While searching for the best travel portal development company certain factors that should be considered are the experience of the company, the client portfolio and the capability of the company to deliver an app that resonates with your brand vision. Travel agencies double their revenue with a mobile app developed by Enuke Software.
Enuke fosters an experienced development team that builds custom travel portal software for clients across more than 20 countries. The company has more than 8 years of experience in serving over 180 clients with a 92% client retention rate.