'Big beast' or 'unwieldy' to be used daily were the reviews of Note received back then in 2011, but now every smartphone manufacturer is after this giant beast size. Apple was the one to chide Samsung's Note when it was launched and now it is traveling the same route. Apples flagship smartphone iPhone created a ruckus last year because of its big screen size. Seeing this how can Samsung remain quite; so just after the announcement of iPhone 6 and iPhone 6 Plus Samsung posted a video on their You Tube channel mocking Apple "Now it's not being dismissed by competitors, it's being imitated," said a the spokesman in the video.
Although this was an advertisement for Samsung's latest Note 4 but it lashed out Apple for coping their USP which they rebuked earlier. However, in this article we are here to analyze the changing love for the big screen sizes.
Popularity Comparison of Mobile Phone Screen sizes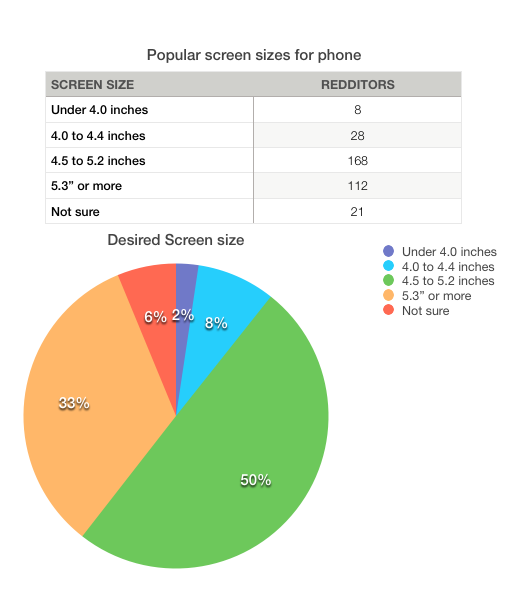 After a survey we came to know that people are preferring smartphones with big screen size. We carried out this survey on a social media platform and people are preferring smartphones with bigger size as summarized in the pie chart given below.
Some of the comments made by the users are as follows
"I'm tremendously happy with mine, but I still did find the screen size of the Galaxy Nexus a tad more comfortable to use. That said, I've pretty much come to terms with the fact that 4.4–4.5″ high-end phones are a thing of the past." — Anonymous
" was similar, 4.5″ – 5.3″ I have a moto X and love the 4.7″ on that, but wouldn't mind an extra little bit of screen space. I love the N5 as well, but the curved back of my X is so nice…" — Anonymous
[poll id="3″]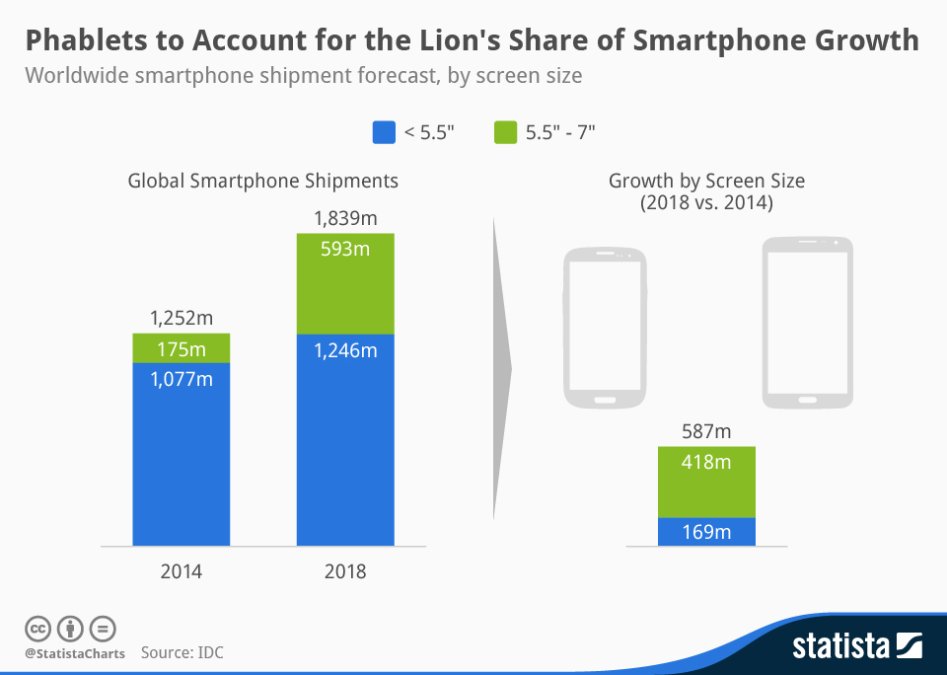 'Monstrous' of 2011 is the 'Mania" of 2014
After receiving mixed reactions from the critics and audiences phablets managed to grow its popularity among the audiences. As a result of this Apple who is considered as a stubborn giant in the gadget industry had to increase the standard size of its flagship phone. Speaking about the adoption to bigger screen sizes, then I must say that it was not very well received in the beginning as it took five years for the users to shift the average screen size from 3″ to 4″. However, it took only two more years to reach the screen size to 5″.
Is Big good for consumerism?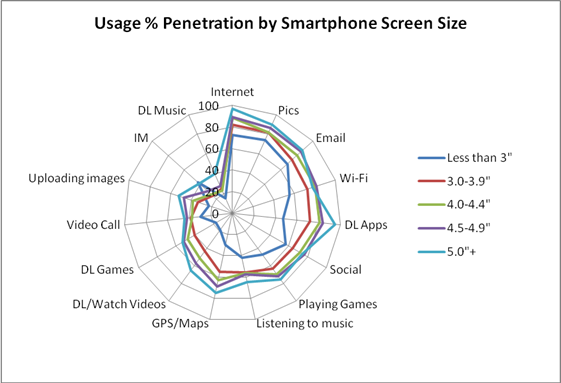 As there is no accounting for personal liking. What is big for me might not be for others. A person's liking depends on factors such as size of the hand and fashion sense. Moreover, convenience in browsing and chatting nowadays have a great utility in the smartphones.
Speaking about the latest tech trends at only the last two years, we have seen that 5″ and bigger screens are in demand. Now the trend of overall size is upwards, but modern smartphones were aimed to grow smaller in order to lessen the burden rather than increasing the burden.
Screen out Screens
Screen is certainly the most sought after item of a smartphone, but other factors such as the grip of the device, camera, microphone, speakers, tensile strength, touch add on to the fan base of the phone. For instance, a 4″ iPhone is ~72 sq. cm (~11 sq. inches). Earlier the manufacturers aimed to make smaller and lighter smartphones until the complete scenario was changed after 2011. The launch of phablet and its utility made them revise their ideology of keeping the phones in the pocket.
Bezels need to be smaller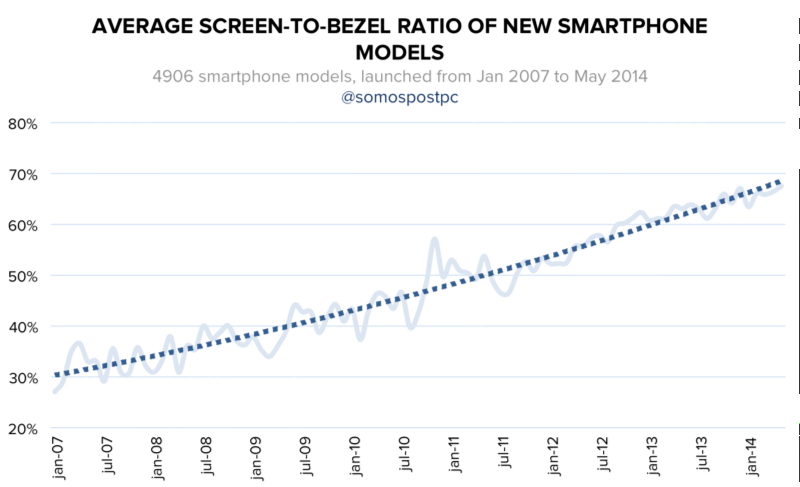 There is no point in providing just a 3.8" display screen in a 5″ phone. Thus, in order to do this the developers need to maintain the screen-to-bezel ratio. As a results the bezel size was reduced in order to provide bigger screens. According to the latest survey the global share is of the smartphone market can be seen below.
Criticism

Being aware of the popularity of big screen phone Steve Wozinak (co-founder of Apple) criticized Tim Cook for the procrastinating the launch of phablet iPhones by three years. According, to a report by Washington Times, Wozinak said that Apple's current smartphone market would not be only 12 % in front of Samsung's 24% if they had matched the pace of the changing technology and user's preferences. The former co-founder who had left the organization 18 years ago told CNN that Apple could have been in a better market position if they would have seen this coming.
Samsung is losing the Phone Size Battle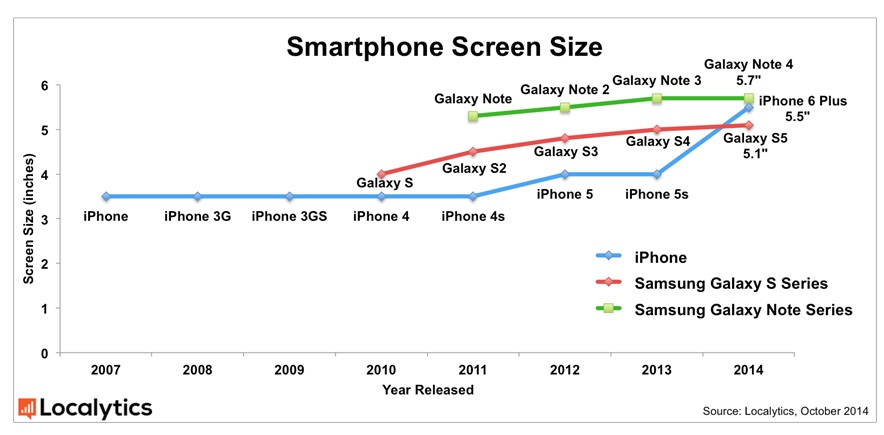 of being the originator of big screen smartphone or phablets, Samsung is eventually fading out. Samsung lost the battle of the big phones last quarter as Apple's iPhone 6 and iPhone 6 plus are gaining credence. South Korea based company itself revealed that they are loosing profits and it is also fading in China which is considered as the world's biggest market of smartphones.
Well adapting big screens did wonders for apple!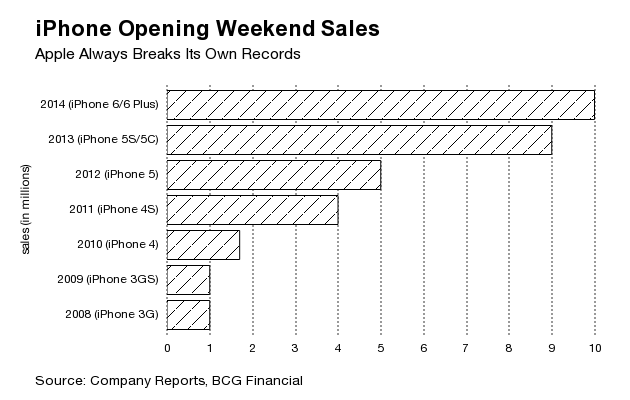 Thus, this is a situation where Mobile App development companies should pay heed to and incorporate these findings to build a highly competitive business app. Being into this business since quite a sometime we have thoroughly ventured the analytic lane which most of the companies do not venture. We aim to provide you highly competitive and futuristic services.
Feel free to add something new to this story and Do choose your preferred screen size.