The supply chain management and the logistic companies are evolving with time. In fact, the supply chain industry represents a massive market. It is only going to get more prominent in the next coming few years with budding supply chain startups. Currently, the revenue is estimated to reach $1.1 trillion; this is according to the Council of Supply Chain Management Professionals.
The supply chain firms are moving from a traditional setup to the integration of IT and technology to their operations to reduce the costs incurred as well as to meet the service demands.
The growth of the supply chain sector depends upon its soft infrastructures like education, training, and policy framework as much as the hard infrastructure.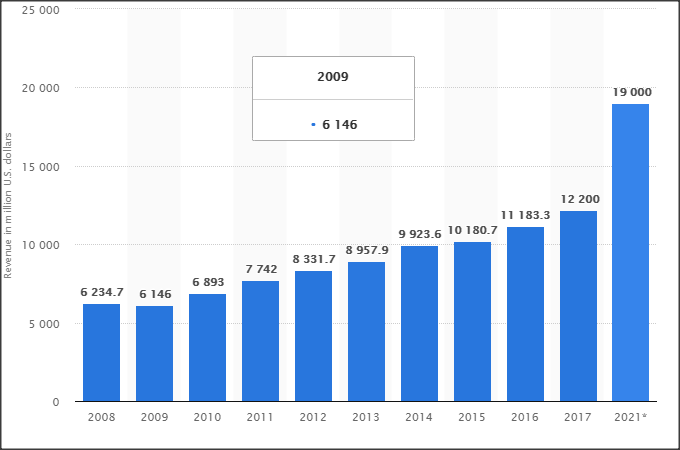 From the above report published by Statista, we can see the global revenue generated through the supply chain management (SCM) software market from 2008 to 2017, with a forecast to 2021. Further, in 2017, the supply chain management software industry was worth 12.2 billion.
Why Is Blockchain Technology Crucial For Supply Chain Startups?
According to the Deloitte Global Supply Chain Risk Survey, the crucial problems involved in supply chain management startups include-
Lack of the latest management tools
Not being able to see the visibility in supply operations
Not having a proper mastery of provision and information flows
The trust factor between suppliers and customers is also lacking
Fraudulent activities
Therefore, using smart blockchain technology could be a great way to give substantial boost efficiency in different major areas like product realization transparency, fair trading approach, sustainability, retailer/customer traceability, and right surveillance process.
Apart from dealing with the issues mentioned above, Blockchain also provides highly secured data storage.
Which Supply Chain Startups Use Blockchain Technology?
Presently, several blockchain supply chain startups are launching in various industries. Though the first industry to appears in our mind is manufacturing but, statistics prove that any sphere can benefit by using the supply chain technology that uses blockchain. Notably, one can also leverage the industries mentioned below by using the blockchain supply chain technology-
Marketing and advertising
Healthcare and drugs
Utilities and energies
Retail and commerce
Logistics
Environmental service
Now, it's time to take an Eagle's eye look on the famous Supply Chain startups using Blockchain technologies-
AXenS: Builds Trust in Payment and Trade Service
It is a very smart blockchain-based platform that is specially designed for distributed supply chain finance and distributed trade services. When it comes to creating very secure automation for the trading transaction and, secure management of documentation and data involved in the businesses, AXenS provides the best in class secured the automation process.
It is consists of KYC/AML policies.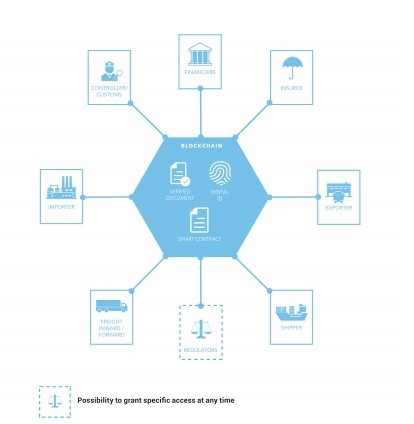 Furthermore, to make the working process more efficient, this transaction network closely integrates the physical supply chain and financial supply chain.
DORAE:
It's a global blockchain-enabled physical commodities cloud. It uses a built-in blockchain-based distributed ledger platform that helps with the provenance of raw materials. Users can also use this distributed platform to have a comprehensive view of where raw materials involved in production come from.
See how DORAE blockchain technology works below-



Irene Energy: A Star-Performing Global Supplier of Electricity:
It's a stellar blockchain solution that provides transparency in electric supply management. In fact, the best thing about Irene Energy is that it allows consumers to access the information related to the spending of their electricity. It also provides a means to control their influence on the issues of global warming.
NextPakk
NextPakk is a concierge delivery and community-based service. It allows the customers to schedule their delivery within a one-hour window, ensuring the customer is home during the delivery. NextPakk uses blockchain technology to ensure timely delivery, tracking packages, and protection of customer's data.
Zeto: Best In Class Food Safety Solution
It's a software company providing top class food safety solutions in the retails and refrigeration industries. Moreover, this is a block-chain based supply chain that offers scalability in food safety.
Launched in the Ethereum platform, this ICO offers various bonuses and bounty offer. It supports JYC policies as well.
The main objective of Zeto is:
Increasing transparency and trust
Waste prevention and saving money
Complying with the food safety standard
The blockchain implementation allows the IoT sensors to be applied to every link in the chain. Therefore, it is possible to keep the temperature data stored securely in the blockchain. In case anything goes wrong, prevention care is taken immediately. The company also offers a mobile application that allows you to keep track of the complete product history.
Project Provenance
The main objective of Project Provenance is to help businesses build consumer trust in their products and supply chain. This company also uses Blockchain technology to keep a more transparent digital record of a physical product's journey through the supply chain. They help consumers avail of better product information.
OriginTrail
It's a blockchain built a protocol for the supply chains. They designed the protocol with the main object of enhancing the integrity and veracity of the supply chain data. The blockchain-based data insights help both the IT providers and supply chain leaders.
The protocol designed by OriginTrail allows exchanging data seamlessly between companies with the utmost safety and integrity.
Blockhead Technologies
It's a global provider of software solution and application which use blockchain technology. The blockchain-based STAMP platform enhances the product trackability and improves data security for supply chain companies.
This startup was founded in 2017 with private funding.
What are the reasons for using the Stamp?
Devery
Now you can verify the authenticity of a product with the help of Devery. It is an ideal platform for verifying the product protocol. It allows both consumers and suppliers to check product authenticity before making the purchase. The blockchain-based verification system throughout the supply chain helps brads stay away from fakes and forgeries.
From 18th Jan 2018 to till now, Devery has generated $10,000,000.
The structure of online product verification used by Devery looks like this –
CargoCoin
CargoCoin is a decentralized cargo protocol which is built with the blockchain technology. The main objective of this company is to connect logistics processes with the blockchain. It uses smart contacts to improve the escrow system for supply chain companies. This company was founded on January 1st, 2017, with private funding.
Tradeline
It's a post-trade automation program for the commodity trading industry. This company leverages the blockchain technology to automate post-trade activities for all parties of the trade.
Infor
This supply chain enterprise software company has generated around $3 billion a year. This company offers features such as inventory management, tracking the inventories, product requirements, and budgeting. This company has partnered with the best technology, such as IoT and Blockchain, to implement and provide a higher quality outcome.
Ecovadis
This company's aims are supplier sustainability for buyers such as Nestle. And is an emerging company that prefers to implement new technologies as they come into existence.
Elementum
This company helps to minimize the fallout from disruptions. Elementum basically offers supply chain management using big data tools which helps in processing a large amount of information.
Global ranger
Global ranger is a tracking boom that focuses on capitalizing the Internet of Things and blockchain technology implemented on supply chain management software. This company is a subsidiary of a Japanese company firm Fujitsu that aims at providing fully equipped supply chain management and technology in the industry.
Flexe
This company is like the Airbnb for warehousing where people can temporarily lodge their business storage. By making the most of evolving supply chain capacity by selling warehousing space and enabling for same-day shipping by using the best-given technology in the market.
Cloud logistics
This company is heavy on demand-craze as it is providing a deadly combination of mobile transport management and cloud computing blended together to boost the structure of the supply change management system. This company offers various services using blockchain technology such as vendor-to-vendor communication, inventory tracking, logistics analytics.
The six key benefits of using Cloud Logistics are:
Real-time transportation scheduling, pricing, and booking
Real-time status of cargo and inventory
Multimodal global supply chain visibility
Sourcing/trading synchronization
Trusted Trade Finance
Developing its own supply chain network
The Supply chain industry is currently witnessing a boom with the help of technological advancement. Blockchain application development companies are offering small and large supply chain management companies to use this technology to its best benefit. These developers help in building a mobile application as per the supply chain business requirements. The supply chain industry has been positively been impacted since time technologies such as blockchain, big data, and the internet of things have come together.