I always used to ask to God where superman was when my granny needed him. If superman existed for real, my granny would have reached to the hospital on time. Well, eventually with time I learned that these super heroes and heroines are surreal. But the pain, I felt for her is still there.
However, I am glad to tell you that in this technically tamed time we have also gained control over Healthcare Industry. This has not only helped to lower down the cost involved but also expedites the process , saves time and more importantly saves lives.
USA's expenditure soared to 3.8 trillion which is more than Germany's total GDP. The haywire workaholic lifestyle of people has increased the rate of vulnerability to diseases and thus has considerably increased the expenditure on the Healthcare Sector. However, Mobile Apps have donned the clothes of the new age rescuer of the cost overruns in this sector. According to Manhattan research, around 100 million people now use healthcare apps and 38% of them rely on them for their medical and health related matters on them.
Having seen this, Hospitals and healthcare centers will surely ask the following questions to the healthcare app development companies.
Now is it really true that Mobile Apps have reduced the cost?
And if yes then how much?
What is the accuracy rate?
And many more questions are pretty obvious….
Let's find out the answers for these questions.
What is the effect of Healthcare Apps on Cost?
No doubt that it is proven that m-Health or Healthcare Mobile Apps are beneficial for the patients and the healthcare industry. According, to a survey 93% of the phycisians opine that they have the potential to improve the healthcare facilities. But market is still in dearth of Healthcare Mobile App Development Companies which have the potential to craft reliable apps. As physicians need to know the success story of the apps before recommending it to their patients.
However, there are few bottlenecks which have somewhere retrained a kick start in the development. Once started in the full swing it will deem to revolutionise the HealthCare industry. Some of the benefits are-:
Normalizing the Cost curve
Enhancing the quality of services
Revolutionise Innovation
According to Medicare and Medical Services, US Census Bureau; Brain Analysis, Healthcare Mobile Apps have the potential to flatten the cost curve. Moreover, it is expected that if the proliferation of m-Health continues then they are going to take the healthcare expenditure to 18% of the GDP by 2020. The graph shown below is picked form the analysis and it clearly states the improvement.
Flattening the Cost Curve
After analysis it is derived that if crafted properly Healthcare mobile app can prove to be a boon for the expenditure as well as the patients. Let us find out where they can take the expenditure.
Efficient administration, saves up to $200 per member per year (PMPY)
Dealing with high-cost patients effectively, saves $700 PMPY
Availing high quality service provider to patients, saves $1400 PMPY.
Mapping patients to their desired quality healthcare sites, saves $200 PMPY.
Efficient Administration
Hospitals do already have hospital management solutions to improve the administrative procedure and reduce the cost incurred. These IT solutions effective manage the hospitals by facilitating automatic scheduling, online booking, payments and filing for claims. Furthermore, patients can access their test reports and have a word with their physician using the online portal. This has liberated the staff which had to work on files of the patients. Moreover, hospitals have got a consistent and more reliable systems known as electronic health and electronic medical records ( EHR and EMR). Moreover, according to latest survey 66% of the physicians prefer EMR to maintain the records of their patients.
These web tools not only provide a better record storage facility but also assists the physician by telling them how the patient is responding to their treatment. Moreover, these systems also help the manufactures to use data to formulate drugs for epidemics.
Even after all these benefits these technology helps to reduce the cost by 10% and $ 200 Per Member Per Year.
Dealing with high-cost patients effectively
Its 2:00 a.m. in the morning, and Harvey feels uneasiness due to some cardiology issues. So, he attaches his smart digital tool which takes the ECG of your heart to his smartphone. This will send the ECG to the nurse at the hospital. The nurse will send a text to Harvey and will find out whether he is fine or not and accordingly she will assist him. Further, she can book and appointment for him as soon as possible. The next day Harvey can have a video conferencing with the doctor over the net.
From the above example this can be seen that we have saved time as well as money. This technology has proved to be a boon for patients suffering from chronic diseases.
These software also help healthcare provider to figure-out vulnerable patients by using predictive modelling and data analysis via EHR. They use this to give dosage reminders to patients and teach them to monitor their health.
This factor reduces the costing factor by $700 per member per year.
Availing high quality service provider to patients
Costly is not always efficient. Moreover, when it comes to healthcare we need to be highly cautious to figure out the difference between costly and quality. Moreover, we have seen that the cost of even basic procedures vary hospital to hospital. This provide a lucid picture of hospitals and will also clear various quality related misconceptions. Additionally, this will help the service providers to ameliorate their services.
This factor of mapping patients to high-quality providers with reasonable rates will chop off unnecessary delays and will account to save $1,400.
Mapping patients to their desired quality healthcare sites
These digital devices will help the patients to locate the desired cost effective healthcare sites. Thus, leading to save physician appointment costs and hospital cost. Avoiding hospital visit can be a watershed in our mission of flattening the cost curve. This can save up to $ 200 Per Member Per Year.
How to manage the quality?
We already know that at times the testing cost of general mobile app surpasses the development cost ( stress on the word "general" mobile apps). Keeping in mind the precision required in Healthcare Mobile Apps the testing time and cost will surely increase.
"This smartphone-enabled technology is superior technology [to standard diagnostic procedures] and is an example of the type of rigorous evaluation that we need to establish the real value for these mobile and wireless tools."
~ Roderic Pettigrew(The Director of the National Institute of Health's National Institute of Biomedical Imaging and Bioengineering .)
We are well aware of the fact that the mHealth is the latest technology in the market and Healthcare mobile app development companies are still waiting for a reckoning force. The major challenge in developing a fortified and flawless healthcare mobile app is testing and validation process in this diversely fragmented technical environment. Moreover, technology is changing with every drop of the hat and thus testing in the real world environment becomes much more difficult. This brings us to the fact that the traditional testing procedures are no longer efficient to deal with these volatile technological changes. Thus, we can think of an out of the box ideas of amalgamating the in-house development team with an outsourced development team and the term is known as crowdsourced testing (Crowd testing).
Mobile testing has become much easier by the recent cloud computing advancement. Software and mobile apps with high risk of defect exposure factor fall into the category of Crowd Testing. mHealth apps are prone to jeopardise the lives of the users in case of the software or device failure, thus they need to be crowd tested.
Crowtesting has single handily changed the picture of current testing procedure. It has opened new avenues to different testing environments and gives you real time test cases, more than ever imagined. Using this testing professionals and App user form across different parts of the world can get to work on the application. And certainly this helps you to get to learn new test cases coming from different living ambience and health conditions. This happen to be the most credulous testing technique for mHealth apps as it is not confined to certain hypothetical scenarios, whereas this procedure puts your app under the scrutiny of different real time cases. Maintaining the real world test scenarios before actually launching the app will not only give you confidence but will decrease the cost of refurbishing your app.
Crowd testing helps you add on members to your testing work force without losing you budget balance. Moreover, it is faster in identifying the defects than the traditional testing process. The comparison can be seen in the graph shown below.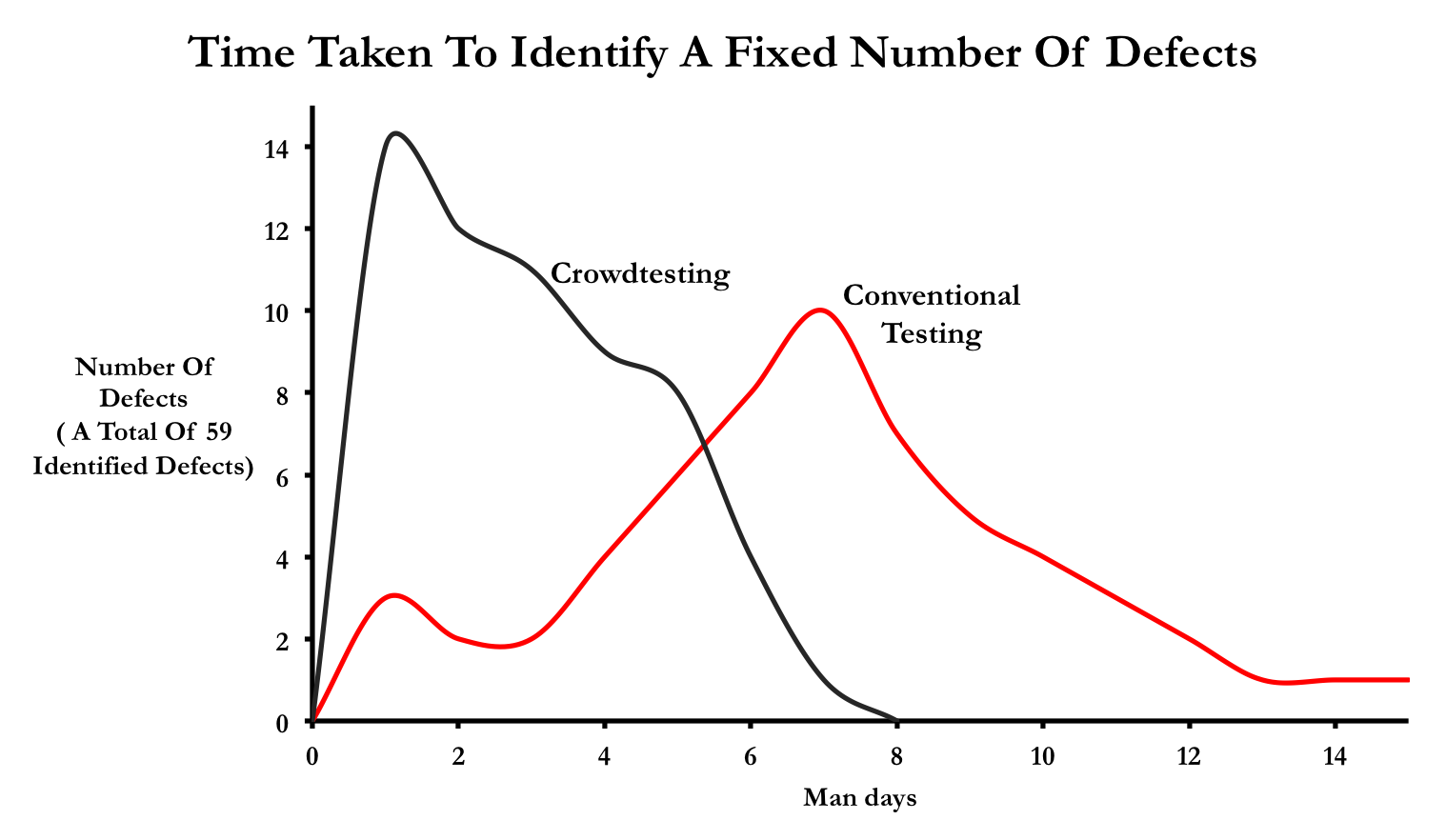 How can Crowd testing improve mHealth
As we all know the fact that mhealth mobile apps demands a lot of precision, therefore they need to incorporate numerous stakeholders to formulate a mHealth strategy which is offered by crowd testing. Crowd testing provides a scalable way to contribute to the enhancement of the Mobile app. This technique allows the testers to take the benefit of the experience of healthcare practitioners and experts.
Mhealth empowers the patients to report a crime
My aunt was suffering from STV (a disease related to blockage in arteries) and she underwent a surgery in a renowned hospital. She got an attack just after three months, despite of doctor's assurance that the problem won't reoccur ever after the surgery. This time we asked her to consult another specialist. And that specialist told us that she never underwent any surgery (shocking!). According, to me these fraudulent can be easily caught or rather if every procedure is online and people are aware of it they will never fall for such travesty in the first place. Healthcare mobile app development companies should come up with new functionalities which can not only flatten the cost curve but also prove to be a platform where users do not have to go to courts or other platform to air their grievances.
How can Healthcare Mobile App Development Companies prove to be a smith?
During the time of transformation, for instance say digitization of financial service industry there were winners as well as losers. However, we had more winners as compared to the losers. Similarly, in this advancement some companies will get along the wave and the other will wait for the right time. The former ones will grow leaps and bounds, wherein the latter ones will be left behind. The early landers not only survive but learn how to thrive. So, go ahead and make a move to succeed.
Although we are an India based Healthcare Mobile App Development Company but our healthcare solutions are used by the ace hospitals across the USA. We can play a crucial role in your progress. So, feel free to post your queries here or you can drop them at [email protected]