Presently, the entire mobile health app market has developed into a vast ecosystem; a market that is not only dynamic but also has great potential to change the whole medical industry. However, while developing apps it is important to consider the programming languages used. For instance, the best programming language for healthcare apps will ensure the smooth functioning of the app.
What are the market stats of mHealth Apps?
Based on the report published by Grand View Research Inc, the global mHealth app market is expected to reach USD 236 billion by 2026 at a CAGR of 44.7% during the forecast period. The global market of mHealth apps was valued at USD 12.4 million by 2018.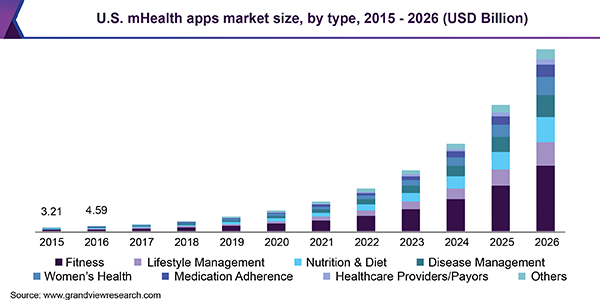 According to research done by Accenture, healthcare consumers continue to show strong use of digital technology with the number rising consistently. In a survey, 75% of the consumers said that technology is essential when it comes to managing health. This survey also showed increases across the board in the use of mobile, electronic health records, social media, wearable, and online communities.
More importantly, nearly half of the health care consumers (48%) are using mHealth apps, compared to just 16% in 2014.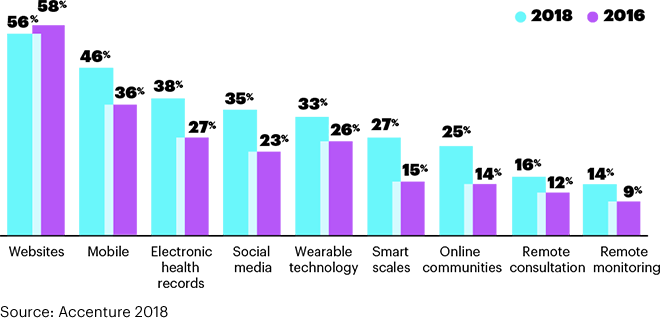 The rising prevalence of the disorders like diabetes, hypertension, cancer obesity along with the growing awareness of health and other diseases preventive measures among the patients is expected to give a significant boost to the mHealth market worldwide.
mHealth leverages 4 crucial Ps- personalized, predictive, participatory, and preventive measures for delivering the utmost care to the users.
What we found from the different studies and researches on mHealth apps?
The rapid increase in chronic diseases along with the rise in the number of apps is one of the crucial reasons behind the skyrocketing growth behind mHealth apps industry.
The types of mHealth apps include-lifestyle management and fitness, nutrition, health goals. Diet plans, women health, usage of different medications, online medicine delivery, online medical consultation, healthcare providers, and disease management.
A significant portion of mHealth apps is focusing on women health, medication, diet, and medication reminders. According to the Wired, mobile advertising, and analytical platform, women are more likely to use health care apps than men.
These days physicians also recommend the use of mHealth apps to their patients, which is likely to increase the adaptation rate of mHealth apps.
North America led the mHealth application market last year, in terms of technological advancement and the presence of large players in the industry.
Some of the key players in the world of mHealth apps are Johnson & Johnson; Abbott Laboratories; AstraZeneca; Bristol-Myers Squibb Company; F. Hoffmann-La Roche Ltd; Novartis AG; GlaxoSmithKline plc; Merck and Co., Inc.; Pfizer; and Sanofi
So now you might have realized how rapidly the mHealth sector is growing.
If you are planning to develop a mHealth app for your medical business, the first thing you need to focus on the developing stage. When it comes to developing a mobile health app from scratch, the first thing you need to decide is the programing language for your app development.
Which is the best programming language for healthcare apps?
There is no particular best programming language for healthcare apps. Each programming language holds its own significance and comfort depending on the features of the apps. Healthcare Application Development Companies specialize in all the programming languages, but they analyze and adopt the best language to depending on the features of the app.
Here we will discuss the best languages which are helpful on the basis of their own applications.
Kotlin
Kotlin is a new Android language, and it is expected to replace Java at some point in time. When it comes to creating an Android-based mHealth app, using Kotlin could be a great idea as it features possibilities that Java lacks.
The Kotlin developer community is small right at the moment, and this can be a little problem, but, it is a highly evolving language. If you are looking for a perfect language for your startup mHealth app solution, Kotlin could be a big help for you.
Swift
In 2019, what could be a better next-gen iOS language than Swift? Just like Kotlin, this programing language is also young but, highly promising. Swift offers a more concise and cleaner code than Objective-C. When it comes to completing a task, Swift requires fewer lines of code compared to Objective-C.
This programing language is more secure and easy to fix. The compiler error of this programing language ensures the reduced time for the bug fixing.
Swift is evolving fast as it's an open-source project, and anyone can contribute to it. When you work with Objective-C, you worry about the memory of each object, while you can only focus on app logic when using Swift.
On top of all, Swift features dynamic Swift libraries. We all know that static libraries update only with significant changes where dynamic libraries can receive several pieces of code that improve them. This excellent feature allows developers to keep the libraries up to date all the time.
Rust Programing Language
Rust is a programing language that offers the performance of c and C++, but of course, with the safeguard for the developers. It can be an excellent choice for building mHealth apps offers performance that wouldn't have been possible using the JavaScript, one of the most popular scripting language of the web. This programming language can be compiled into WebAssembly, which runs in major web browsers at near native-speeds. It comes with the tool that allows you to shift Rust code to npm through WebAssembly. The tools also allow you to deploy Rust onto the web via bindings, which allows calling most functions provided by browser and JavaScript itself
R Language
The R Programming language is not that much popular right at the moment, but, it has excellent potential. It's an open-source programming language which is excellent for developing UIs. The visual representation of Data is a must when it comes to ensuring the UI of your mHealth app. R is one of the best languages for creating beautiful animations, graphs, and other UI elements for your mobile app.
SQL
Inserting queries, adjusting data, and modifying the data access makes this language one of the critical skill sets in the Healthcare domain. It helps the administrators to maintain and analyze the stored databases. It also helps in carrying out audits.
Java
No wonder Java is one of the most used app development languages.
It is used to develop embedded devices such as diagnostic and interventional systems. Apart from all this it also helps in developing record-keeping applications, cloud applications, server applications, web applications, etc.
It is used to develop embedded devices such as diagnostic and interventional systems. Apart from all this, it also helps in developing record-keeping applications, cloud applications, server applications, web applications, etc.
Android OS is written in Java, so if you learn Java, you will be able to create an Android-based mHealth app from scratch.
Java is an open-source and independent platform that has lots of uses in the real world.
HTML
This language is used especially for building websites. Websites help them to acquire new patients, market their services, spreading information about the new type of services they are going to give as well as online appointment booking of a particular doctor of the patient's choice.
Python
Presently Python is the fastest-growing programming language in mHealth and other apps development.
It is one of the powerful and easy to learn the language. And, it's projected to grow even more next year.
What's so special about this programming language?
Python is a potent language that you can use for different purposes and, in various domains such as-
Mobile app development
Web-based app development
Game development
Data science and machine learning
Internet of Things (IoT)
Web scripting
The best part of learning python is that it is free of syntaxes that are complex, so one can easily read and learn it. This programming language allows you to create an app for any platform.
Its coding is easy and consumes less time in fixing bugs.
JavaScript
It is the critical language to develop advanced websites or upgrading the existing site into an advanced one. It is also the primary scripting language of the latest web development platforms.
XML
Provides standard architecture for encoding the documents. It enhances interoperability and enhances the system to provide relevant information such as records of the patients.
C#
It helps in creating applications such as Electronic record systems, Electronic Lab record maintaining systems as well as Electronic health record maintaining systems. It also helps in developing alert features, which will automatically alert about the critical health cases.
C++
Provides the internal functioning of embedded medical devices such as Imaging systems. It also provides coding support to the Electronic Health Records and information systems.
ASP.NET
It helps in creation as well as the implementation of SaaS applications, development of electronic payment systems, and healthcare record maintaining systems.
PHP
PHP or Hypertext Preprocessor is a server-side scripting open-source language. Besides server-side scripting, developers use PHP for the command-line script and coding applications.
PHP is mainly a coding language for developing websites but, now developers also use it for developing iOS and Android-based mobile apps.
Did you know the fact that the most popular websites that you visit daily are coded in PHP, such as Facebook, Wikipedia, Flickr, Yahoo, Tumblr, and several others? Another great thing about PHP is that it offers an easy data integration process.
C
Many healthcare institutions still use the old operating systems which use UNIX, LINUX. This type of programming language is helpful in these types of operating systems.
Apart from developing, keeping the application safe and secure is also one of the crucial concern.No programming languages is secure. The secure application ultimately depends on the developer who adopts the best techniques as well as security policies while developing the protected form.