Our Client's Success Stories
We have proudly served 180+ clients and have transformed their vision into reality.

Our customers love the mobile apps we had created by Enuke. Enuke took the time to understand our requirement fully and our industry to know how the apps need to perform, and we are thankful to Enuke for this. Our
Restaurant POS system is a complex system, they made sure to understand it thorughly and came up with intuitive and easy to use mobile app, which works beautifully.

Jeffrey Kolar, Relypos (USA)

For us ENuke stands for excellence – we are so pleased with every aspect of working with them! Their team delivered the highest of quality and expertise with excellent communications and lightning fast response. A
pleasure to work with, the ENuke team is a top-notch provider. We definitely plan to use them for future projects! A++.

Tom Griffin, IGY Marinas (USA)

An excellent company to work with from start to finish. The site I needed them to create was complex and they exceeded all of my expectations with the finished product. I already have plans on the next phase that
will include ENuke Technology again. I highly recommend them to anyone who is considering starting a project.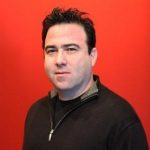 Brad Robertson, Bizavo (USA)